Ignite is 10—and we are celebrating all year long!
We couldn't have reached this milestone without YOU, so we're kicking off Ignite's Year of Giving to show our appreciation. Each month, we will give away one of our favourite things. All you need to do is update/confirm your subscriber profile with Ignite is correct, and you'll automatically be entered into each monthly draw.

May's Giveaway
Get Foodie in Québec City!
Ranked among the 20 best food cities in the world by Conde Nast Traveler, it is safe to say that you will never starve in Québec City. This month, Québec City Business Destination is giving Ignite subscribers a unique chance to savor Québec's world-class gastronomy in the most exclusive and high-end establishments of the city. This package includes:
Two (2) round-trip flights to Québec City*
Two (2) nights in a Deluxe City room at Fairmont Le Château Frontenac
(including daily buffet breakfast)**
Dinner for two (2) at Auberge Saint-Antoine's restaurant, Chez Muffy***
Brunch for two (2) at Ciel!***
$250 value at the Monte Cristo Restaurant
This month's lucky winner will not only discover an historic and cultural city like no other in North America, they will be seduced by our joie de vivre, European charm, small cobblestoned streets and outdoor terraces.
* Flights (economy-class only) must be departing from Canada and booked 30 days prior to arrival date
** Depending on availability and valid until May 1st, 2020
***Valid until May 1st, 2020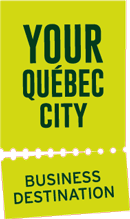 Get to Know our Sponsor
About Québec City Business Destination
Québec City Business Destination is the official meeting and convention bureau where planners can get all the information they need to organize any type of business event in Québec City. Our team of sales representatives, experts on Québec City as a host city, will support you during each phase of the event planning process. Our hotel, retail and food and beverage partners work together so that your event can achieve outstanding success. You will have access to meeting services and promotional tools to facilitate planning your event. Québec City, your success makes history.
It's easy to enter
Once complete, you will automatically be entered into each monthly giveaway draw.
Contest open only to Canadian residents (excluding Quebec) over the age of majority. No purchase necessary. Subscribers of Ignite Magazine who confirm or update their online profile are automatically entered to win each month contest is open. Limit one entry per person. Skill-testing question required. Contest open from August 1, 2018 at 12:00 a.m. (EST) to August 31, 2019 at 11:59:59 p.m. (EST). Draws will be held monthly. One or more prizes are available to be won per month. Approximate value of prizes range from $100.00 to $3,000.00 per month. Odds of winning depend on the number of valid entries received. Additional terms and conditions apply. For full rules and entry details visit: www.ignitemag.ca/year_of_giving/terms.
Ignite's Favourite Things Awarded:
2018
August: 3 Spa Gift Packages from Coast to Coast
Congratulations Janet Maslin, Canadian Pharmacists Association | Carly Silberstein, Redstone Agency Takako Ingram, Data Kinetics Ltd.
September: $100 Starbucks Gift Card
Congratulations Christina Millar, Millar Productions
October: 5 Beautiful Resort Giveaways
Congratulations Catherine White, University of Regina | Jen Moir, Meeting Encore | Gaye O'Bertos, Canadian Seed Growers' Association | Julie Tedesco, OpenText | Natalie Marino, Canadian Society For Medical Laboratory Science
November: 180,000 Marriott Rewards® Points
Congratulations Cindy Carstairs, Rural Municipalities of Alberta
December: Montréal Makeover for Two
Congratulations Josée Lafontaine, Animal Nutrition Association of Canada

2019
January: Getaway for Two in Charlevoix, Quebec
Congratulations Cristina Simoes, TD Bank
February: Getaway for Two in Severn Lodge, Muskoka, ON
Congratulations Sameth Wolfe, Meridican Incentive Consultants
March: Hard Rock Hotel Getaway for Two
Congratulations Elly Nordstrom, ENMAX Corporation