Doing right by your travellers when emergencies strike
By Allan Britnell
An employee getting sick or injured while on the road is the kind of thing that can keep a travel manager up at night. Dirk Baerts, president of MeritBiz, once had first-hand experience with the worst-case scenario. "On one of the outings a person had a heart attack and he died," says Baerts.
Luckily, most situations don't include having to figure out how to inform family members that a loved one has died abroad, and how to repatriate a body. (The Department of Foreign Affairs helps with the latter, learned Baerts.) Emergency scenarios can range from the relatively mundane—lost luggage—to major natural disasters and political uprisings where lives may be at risk.
Employer's Duty
A coordinated emergency plan falls under a company's duty of care policy. "I think of a duty of care policy as a company's obli­gation to protect employees from a moral and a legal aspect," says Kevin Craig, managing director, SAP Concur Canada.
An employer's obligations include knowing which vaccina­tions may be required, and an understanding of any potential cultural concerns, such as visiting countries where women's rights and LGBT protections don't meet Western expectations.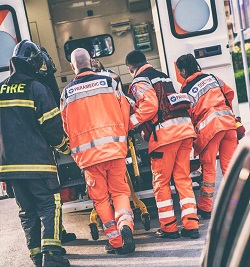 Employee Ed
Employee training and education is equally important. Baerts advises reading the federal government's global "Travel Advice and Advisories" as step one.
One of the difficulties with creating a coordinated duty of care plan is that many employees coordinate their own travel bookings. Employees have an obligation to share that information with their employer and, if a scenario develops, "They need to know that they have an obligation to let you know that they're okay," says Patrick Doyle, a regional vice president with American Express Global Business Travel Canada (Amex GBT). If communication lines are down, it's even more critical for the team back home to have details about each employee's itinerary.
Tech Talk
Of course it's 2018, so there are a number of apps that can help. Amex GBT's Expert Care pro­gram, for example, can pinpoint which employees may be in or near a trouble spot, and contact them via text or email. The system can be set up to receive colour-coded replies—green means they're OK; red indicates they need assistance. (The MeritBiz app and SAP Concur's Locate offer similar functions.) The apps can also double as travel guides, with event itiner­aries, restaurant recommenda­tions and more built in.
Test, Repeat
Finally, whatever program or platform you utilize, you must run regular test sce­narios before anything goes wrong so everyone on the team knows precisely what to do if and when it does.