Strategies to control roaming charges before, during and after any work-related travel
By Jacqueline Kovacs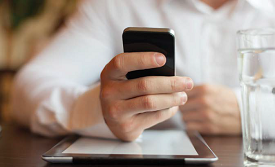 Ever returned from holiday outside of Canada, only to be hit with a whopping roaming charge on your cell phone? Imagine that pricey scenario when it comes to business travellers. "More than ever before, mobility is at the heart of the travel experience," confirms Kjarsten Philipsen, senior director, sales and account management at Egencia.
And because one employee who is careless with the company's data plan can rack up to thousands of dollars, it's crucial that businesses large and small have strategies in place to control roaming charges before, during and after any work-related travel. Here's how to do just that.
BEFORE
Suss out the Wi-Fi sitch. Make hotels with complimentary Wi-Fi a priority for corporate travellers. And instruct employees to set their devices to Wi-Fi only. "Research whether public Wi-Fi is considered secure in the country they're travelling to," advises Philipsen. "Download wireless service provider applications, which can provide helpful usage updates or nearby Wi-Fi hotspots."
State the rules. Just say no to streaming and unnecessary downloads on the road. If your employees are travelling with multiple devices, have them tether to and from tablets rather than contending with additional roaming options.
Consider travellers' needs. "Take the length of the trip into consideration and whether they need to be able to return calls, texts and emails with minimal notice," says Philipsen. This will give you a clearer picture of what is actually required on the road.
DURING
Take advantage of that Wi-Fi. Encourage employees to communicate using services such as Skype and Talkatone, which allow VOIP when connected to Wi-Fi.
Pick a plan. Forgot that travel bundle before departure? "Consider 'buying up' on your service provider's policy once they've arrived," says Philipsen. "Some service providers will offer slower speeds within your current plan and offer the ability to access 4G LTE speeds for a fee."
Go local. Once they've arrived, your employee could buy a local SIM card, suggests Philipsen. Or, purchase an international SIM or rent an international Mi-Fi ahead of time.
AFTER
Shut it down. "Remember, if needed, to discontinue your international mobile plan," warns Philipsen, "if it doesn't turn off by a specific date." Made a mistake? Contact your service provider, suggests Philipsen. Sometimes they will correct your plan and the charges retroactively. Fingers crossed!
At your service
Believe it or not, many service providers are recognizing the pain associated with international roaming charges. T-Mobile launched international roaming within their Simple Choice Plan, which extends to B2B business, points out Kjarsten Philipsen, senior director, sales and account management at Egencia. "AT&T has a similar option, with World Connect Value and AT&T Passport." Plus, Rogers Wireless recently announced expanded coverage in the US without roaming. Contact your service provider to explore the possibilities.