Take your pick of historic and ultramodern meeting and event spaces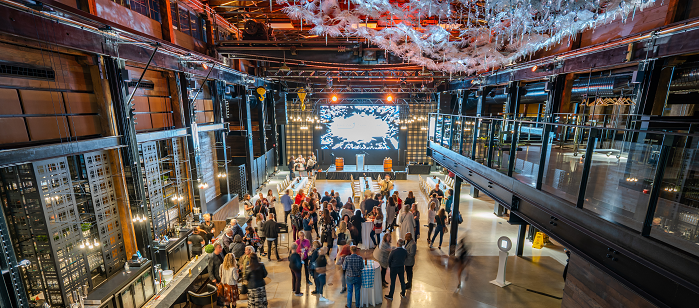 Waterloo Region is a meeting place for community builders and adventure seekers alike and it shows in its varied architecture. From the industrial chic of Tapestry Hall to spacious Bingemans Conference Centre, the destination offers a range of unique and classic venues, whether for a board of directors meeting, large trade show or celebratory gala event.
Tapestry Hall
If your group loves 19th century industrial chic, look no further than Tapestry Hall. Behind the scenes, this former foundry and manufacturing facility is fully modernized and delivers wow factor with an original limestone brick interior, vintage wooden beams, large bright windows, soaring 40-foot ceilings and a 20-ft. high-definition video wall. Just steps from the Grand Hall, the Tap Room is a versatile event space with views of Foundry Brewing's brew room.
A highlight of the venue is Meander, the world's largest permanent living architecture sculpture, which constantly learns and reacts to the movement of venue guests with sounds, light and action.
Fast Facts:
2 meeting & event spaces in a 20,500-sq.-ft. venue
Largest capacity rounds: 650
30-ft. bar & on-site craft brewery
Outdoor event space
Bingemans Conference Centre
With 48,000-sq.-ft. of flexible and versatile space, Bingemans Conference Centre is the largest meeting and conference centre in Waterloo Region, accommodating up to 2,000 guests. The centre is conveniently located within a 10-minute drive of the region's major hotels. It also sits along the picturesque Grand River, a perfect setting for warm weather picnics, hikes and teambuilding activities.
Fast Facts:
15 meeting & event spaces in a 48,000-sq.-ft. venue
Largest Room: 18,000 sq. ft.
Largest capacity rounds: 1,200
Flexible & versatile
On-site teambuilding activities and access to entertainment attractions
St. George Banquet Hall
If your corporate function calls for a more intimate setting, St. George Banquet Hall fits the bill. The venue offers a state-of-the-art boardroom comfortably seating 20 people, a meeting room that's perfect for classroom setups and the 4,000-sq.-ft. Grand Hall with capacity for 750 guests. The venue also offers an on-site restaurant and lounge for receptions and group dining.
Fast Facts
3 meeting & event spaces in a 12,000-sq.-ft. Venue
Outdoor event space
On-site restaurant & lounge
Federation Hall
Situated on the grounds of the University of Waterloo, Federation Hall is everything a planner could ask for in a prestigious campus venue. Accessible and boasting modern amenities to support any occasion, Federation Hall offers four unique spaces (the largest measures 4,725 sq. ft.), each of which can be divided into smaller function spaces. The reception area features floor to ceiling windows and the catering service is committed to sustainability as well as the use of regional and culturally diverse ingredients.
Fast Facts
4 meeting & event spaces in a 7,973-sq.-ft. venue
Largest capacity rounds: 430
Reception & outdoor spaces
LET US PERSONALIZE
YOUR GROUP EXPERIENCE
Jennifer Eddings
Director of Business Development
519-590-8126
jeddings@explorewaterloo.ca