Groups love Waterloo Region for outdoor adventure and learning experiences

Waterloo Region offers an incredible selection of activities that get visiting delegates out of their chairs and into the community, whether it's an excursion to the University of Waterloo to visit two of the world's largest quantum and theoretical physics research centres, the Perimeter Institute and the Institute for Quantum Computing, or an afternoon spent paddling the peaceful Grand River.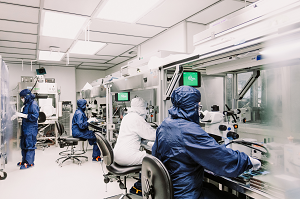 Local expertise
Waterloo Region is home to over 1,400 manufacturing companies, including aerospace, automotive and food processing. It's also a leader in cutting-edge robotics and automation. Visiting groups can engage with industry leaders, entrepreneurs and startups and the team at Explore Waterloo Region can facilitate curated tours of local tech companies as well as state-of-the-art manufacturing facilities. They can also connect planners with academic and industrial leaders for keynotes and guest speaker opportunities.
Unique urban–rural vibe
Waterloo Region is a culturally rich mix of historic and modern, where urban dynamics meet small-town hospitality. The region is renowned for immersive experiences such as the annual Kitchener-Waterloo Oktoberfest, the largest such festival in North America. The St. Jacobs Farmers' Market, Canada's largest year-round farmers' market, is an experience not to be missed, where hundreds of vendors, including members of the community's Old Order Mennonites, sell fresh local fruits and vegetables, quality meats and cheeses, maple syrup, honey and preserves.
Farm-to-table culinary scene
Waterloo Region partners are eager to help planners host sustainable events and that includes choosing plenty of fresh vegetables, fruit and other locally sourced ingredients. Notable planet-friendly restaurants that cater to group dining include Borealis Grille & Bar, Waterloo Brewing and Abe Erb Brewing, which has three locations in the region.
Fun activities
Resonance Consultancy recently ranked Waterloo among Canada's best communities based on safety, arts and culture, welcoming new Canadians, outdoor spaces and public transit accessibility.
There are so many fun activities for groups to do while in the region, from 500 km of bike paths, trails and country lanes, to horseback riding, 15 unique public golf courses and top-tier festivals throughout summer and fall. For those who love the water, Bingemans Big Splash is the area's largest water park and there are plenty of outfitters, such as Grand Experiences Outdoor Adventure Company, that can equip groups to paddle the Grand River by canoe, kayak, tube or river raft.
LET US PERSONALIZE
YOUR GROUP EXPERIENCE
Jennifer Eddings
Director of Business Development
519-590-8126
jeddings@explorewaterloo.ca