Here are the top 10 reasons why Tremblant is a must-visit group destination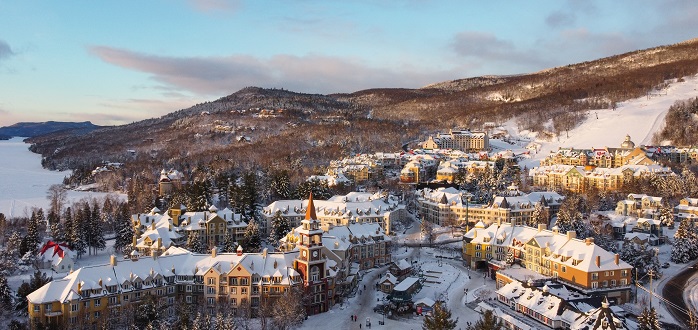 SKI magazine has named Tremblant the number one ski resort in eastern North America for most of the past 25 years, making it the perfect setting for hosting group gatherings and conventions. Overlooking a majestic summit, Tremblant's year-round resort and world-class amenities have helped it earn an international reputation. Every aspect has been meticulously crafted to provide guests with a first-rate experience that blends comfort, modernity, elegance, and convenience. Not to mention, the resort's staff and team of experts go above and beyond to have everything you need during your stay.
Here are some reasons why Tremblant should be the venue for your next corporate event or team-building activity.
One destination, endless possibilities:
Tremblant offers over 60,000 sq. ft. of meeting space in a picturesque, off-the-beaten-path setting.
The resort operates year-round and is nestled in the heart of a pedestrian village teeming with countless attractions.
Accessible and convenient — Everything in the village is within easy walking distance!
In addition to regular entertainment, major sporting events and approximately 300 free concerts each year, Tremblant boasts an impressive array of activities in an outstanding setting.
With over 40 indoor and outdoor activities to take part in, the possibilities for fun are endless!
Stay at one of our resort's 13 hotels - 5 of which are world-renowned hotel chains - and 1,900 sleeping accommodations available, including hotel rooms, studios, condos and mountaintop residences. Find your ideal place to stay!
Modern meeting facilities — Tremblant's Camp de Base convention center recently underwent some renovations, so there's no better time to check out its revitalized look and feel.
Amenities for all — From shopping in a wide range of boutiques, enjoying a group meal in one of our many restaurants or enjoying custom catering, your wishes are our command.
Embrace team-building opportunities — Tap into our team-building expertise and creative approach, ensuring your team benefits from a completely unique experience.
Leaders in sustainability — As pioneers in sustainable development, our commitment to eco-friendly facilities and activities makes us a trailblazer in the domain.
A dream-come-true destination where ambitions come to soar
Whether you're planning an incentive trip, a group excursion, or a corporate event, Tremblant promises larger-than-life experiences in breathtaking surroundings. There's no better setting than this enchanting nature-filled destination to inspire your team and support their journey to excellence. Come see for yourself.
Start planning your business event now!