Epic Flight
By Sandra Eagle
Get ready for a whole new way to begin the SITE Global conference experience. A V.I.Plane Experience will be revving up for a fun-filled flight from Toronto to Vancouver this January.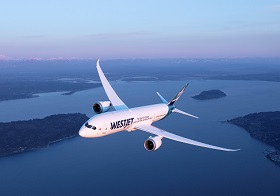 The V.I.Plane was the brainchild of Candace Schierling, director of national sales, Tourism Saskatoon and Reggie Lang, manager, business development for WestJet, in order to boost attendance at the PCMA Canadian Innovation Conference in Victoria last year. The idea was so successful, that a V.I.Plane experience will be created for Canadian incentive travel planners headed to the SITE annual conference.
The concept for the SITE V.I.Plane Experience will follow the same game plan. WestJet will supply an aircraft that delegates will board in Toronto. Bettyanne Sherrer, CMP, CMM, and principal of ProPlan Conferences & Events, based in Toronto, will curate a planned, shared experience from gate-to-gate. "Everyone is going to the same event, the experience, learning, camaraderie and networking—all the fun stuff for incentive travel planners—will just start five hours and ten minutes earlier," she says. Last year's flight included a welcoming reception lounge, gifts and goodies, inflight interactive education and lots of laughs.
The adds, "that's the fun for me as a planner, I get to figure this all out. For our first experience, we had to go out to the industry, hoping that people would trust us to deliver on this idea. Luckily they got on board with us (pun intended) and hopefully, the word is out and people will be primed for this one."
Planners will need to get themselves to Toronto, and will need to arrange their flights home. There is a promo code with a 10 – 15 per cent discount off of their return flight on WestJet.
Schierling and Sherrer will be at IMEX in Las Vegas at the SITE Global booth B228 to promote the V.I.Plane to Canadian incentive planners and sponsors to the industry. Drop by to learn about this epic flight.