The Value of Employee Sustainability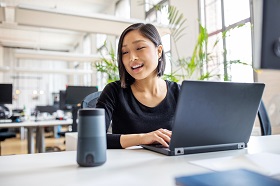 By Adrienne Clarke
From election platforms to corporate annual reports, ecological sustainability has become a driving force of the 21st century. The same is true when it comes to meetings and events. Companies take pride in designing green programs that give back and leave a minimal footprint.
But what about human sustainability?
Companies are continuing to place greater and greater demands on staff in the push for ever higher returns. Workloads are increasing as head counts diminish while multi-tasking and 'do more with less' have become common workplace mantras.
It should come as no surprise that this relentless focus on numbers and the material output of employees has a human cost. The expectation of constant connectivity means that work-life balance no longer exists for many workers.
This is particularly true in our industry.
Over the course of my career, I've witnessed great changes—and the biggest have been driven by technology. Before the Internet, companies saw agencies as a font of knowledge. But today, many answers are just a few Google searches away. Want a private tour of the Sistine Chapel after hours, tickets to the Monaco Grand Prix—just ask Google.
This has taken its toll on meeting and event professionals, as web-sourced knowledge is not the same as expertise. Yet that little bit of knowledge can be a dangerous thing, with clients also constantly asking suppliers to do more with less without compromising the "WOW" factor.
What does this look like in practice? A leader in the events industry recently spoke to me about an internal audit they'd conducted. Even though their agency was busier than ever, profitability was down. While project load had doubled, most of these projects had become considerably smaller. And an ugly little secret of the industry is this: it takes almost as many hours internally to complete a small project as it does a mid-size one.
More work with lower budgets is not a sustainable business model. This is not only true for companies, but for the wellbeing of staff as well. Stress increases as profitability goes down. Doing more with less leads to burn-out and an exodus of expertise from any industry. Meanwhile, recruitment of new talent becomes difficult as millennials aren't interested in entering 'sweat shop' industries.
We should all learn from their example. And really, this is a cautionary tale for all businesses.
It's incumbent on all of us to reflect on what the future of work looks like. What is it that we are expecting…not only from ourselves, but from clients, partners and vendors? Are those expectations appropriate? Are they sustainable? Do they focus only on the bottom line and material side of the equation? Or do they take ethics and the human factor into consideration?
These questions are valuable to all business leaders since organizations with the highest long-term productivity are ones that take human sustainability into account. They are also crucial considerations for any business seeking to attract the next generation of employees, who place great value on work/life balance. And it's also crucial if businesses are to have a sustainable supply of top-drawer vendors to support their success.