Ignite your Photo Ops
How event photos ops could change post-COVID
By Connie Jeske Crane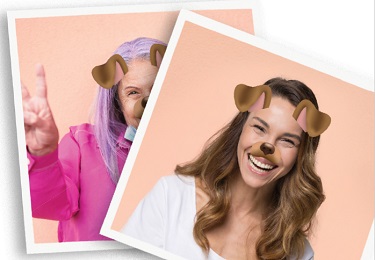 Luscious backgrounds. Armfuls of goofy props. Techno-wizardry. Before the pandemic, event photo ops were enjoying a creative explosion and were also—no surprise—wildly popular.
As we slowly emerge into a new normal, we spoke to several industry players to see what the future holds for those joyful mementos of team bonding. There's agreement that photo ops will be back—but they may look a little different too.
Here's a closer look at what changes you can expect to see around the photo booth as events get rolling again:
Health and safety first
Above all, says Dawne Eisenberg, co-owner and CEO of Toronto's Pop! Events Group, protocols for event activities such as photo booths must keep pace with the evolving COVID situation. "I think the industry schedule will be in line with the government health regulations and other data."
Additionally, she says, "I do think people will be more cautious." Seeking to accommodate attendees' varying comfort levels during activities like photo ops, Eisenberg is a fan of extra measures. And she's a fan of a coloured wristband system her company tested at some recent outdoor events: "So green is 'You're okay to touch me with permission, just ask me for a hug.' Yellow is 'You can come up and talk to me up close, but I don't want to be touched.' And red is 'Keep two meters away from me.'"
Prop overhaul
For now, the consensus is a hard no to touchy-feely props. According to Keri Miller, partner and chief creative strategist with Calgary-based e=mc² events, photo ops should be "completely touchless, something where you actually don't need to play with items. So no props." But she says fi lters and "virtual or technology-supported props could be really fun."
At Toronto-based Party Pix, co-owner Tal Ben-Izhak says, "We're not expecting to use reusable props anymore." For clients who want them, his company has instead sourced single-use take-home props made from heavy cardstock from a supplier. "They can be customized with a company logo or whatever you want."
QR codes to the rescue
QR technology, something Ben-Izhak says we've become used to during COVID, could also be leveraged at photo booths. From signing in to supplying contact information, he says, "QR codes could reduce lineups and eliminate physical contact with the booth itself."
The future is hybrid
For multiple reasons, Eisenberg expects hybrid to live on. "We've gotten used to doing things online, so I do think there'll be a hybrid approach to many events." In conjunction, she expects some of the online photo elements established during COVID—montages, digital photo walls and mosaics—to stick around as a means of engaging virtual attendees.
Back to basics
Finally, Miller expects photo ops to be less about technology and more about the simple joys of human connection. "That vulnerability is what I would like to see as a trend, something that is less technology-enhanced, and that's a little more natural, and that shows we're all just human."