Meetings Forecast 2020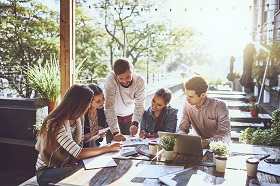 By Sandra Eagle
Meeting professionals are bullish about events for next year, with steady growth predicted across all meeting types, in the latest forecast by American Express Meetings & Events.
Gerardo Tejado, general manager at American Express Meetings & Events, says, "meetings and events have cemented their place as a critical driver of communications, growth and engagement for organizations of all shapes and sizes." Among the findings of this year's report: meeting planners are wearing two hats, that of logistics expert and an experiential designer, making sure the experience is more personalized, before, during and after an event.
Tejado also notes that more than half the volume of all meetings in North America will be classified as small, with less than 50 people in attendance. Overall meeting spend in North America is expected to rise by 1.6 per cent next year, and incentives are expected to grow by 2.54 per cent.
Planners are integrating technology in ways that mirror how attendees interact with their devices in their daily lives to create authentic experiences. Tejado says, "planners are personalizing every step of the program along the way, from invites and teasers, to surveys of what they want to see at the event when they get there."
Three special sections of this year's report deal with:
Small Meetings: the challenges of managing and exploring technology-enabled solutions for meetings of under 50 people.
Personalized Incentive Programs: practical advice for cultivating personalized experiences and increase the ROI of incentive investments
Pain-free reconciliation: examining trends and challenges in the reconciliation and payment space for meetings and events.
The forecast is based on a survey of more than 550 meeting and event professionals from around the world and interviews with industry experts.
You can download the 2020 Global Meetings and Events Forecast here.