Getting Back Together Safely
As we begin to ease our way back into face-to-face meetings, pre-event communication will play a significant part in attendee satisfaction
By Sandra Eagle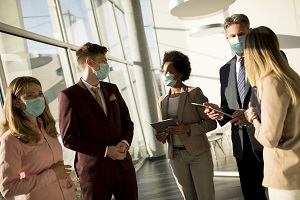 Bobbi Hoffman's first in-person event takes place this month, but she made sure in her pre-event communications that her attendees knew what to expect. Hoffman is director of operations at Gemstone Event Management in London, Ont., and has completed the Pandemic and Event design certification course offered by The Event Leadership Institute. She knows pre-event communication is now more important than ever. "We don't know where a lot of people stand—there are COVID-19 sceptics who are comfortable with the way things are, and at the other end of the spectrum people are still concerned. Prior to an event, attendees should know that their safety is front and foremost and that meeting planners are taking steps to ensure their duty of care is met."
Hoffman adds, "There will be more collaboration between our hotel partners and venue suppliers on what they are doing to keep guests safe, and that will need to be communicated to attendees. I think registration practices will have to change too, this is where mobile apps can really help to reduce touch points."
Yvonne Dewar, president of Elastic Communications & Events, based in Mississauga, Ont., is vice-chair of the upcoming CanSPEP Conference to be held October 27 – 29, 2021 in Waterloo, Ont. She says conference participants and suppliers will have to have proof of a double COVID vaccination to attend. They, as well as speakers, the onsite A/V team and planning group will be rapid-test screened upon arrival. The association is including links on safety information through their weekly e-newsletter and social media to make things easier for their attendees. CanSPEP is also utilizing the contactless saniTrakr mobile app to track where people will be on a daily basis.
As we begin to meet again, here are some tips on your pre-event communication:
• Release information to attendees as soon as your event is announced
• Create specific messaging on measures that are going to keep attendees safe such as daily screening, sanitizing and social distancing
• List protocols for entrances/exits to venues and elevators
• Provide seating plans and crowd-flow out of meeting rooms
• Describe how meals and breaks will be ordered and served
• Let attendees know what parts of your program are live or hybrid
• Relay information in short videos in all social media posts, email or association newsletters
• Maintain a page on the event website with pertinent information with reputable links and update with any significant changes
• Send out hotel and venue information as soon as registration opens with links about the facilities' safety protocols.
Ultimately, says Hoffman, "it's best to communicate and stay transparent from the beginning."