Keeping Connected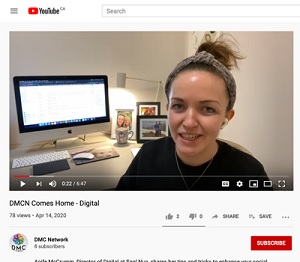 The DMC Network, a collection of destination management companies, has come up with a novel way to connect with their global partners and the industry. A brainstorming session created DMCN Comes Home, an idea for a series of short personal videos showcasing the individual talents of partner DMCs. These videos can be watched any time by following them on Instagram or YouTube.
Ignite had a chance to chat with Dan Tavrytzky, managing director of DMC Network, via email to ask a couple of questions.
How did you come up with this idea?
From the very early days of this crisis we began brainstorming ways that we could adjust the way that we connected with the industry to reflect the current situation. We wanted to continue to communicate with our clients, but understood that it needed to be a meaningful way, with content that will be useful for them during this time. We are destination experts, we are creative by nature—this we know we can contribute to and so, the DMCN Comes Home was born!
These days it's all about being connected in ways we've never considered. How has this initiative helped to create connections within your company and with the outside world?
For us, this truly has helped us connect in a way we could never have imagined! Firstly, it's opened the doors for us to create new connections with locals in our destinations that we previously did not have relationships with, which is amazing for our future business—it strengthens the creative offering that we can give our clients in the future. It has also really helped us connect with both existing and potential clients—sharing these relaxed yet informational videos is resonating with people—it's information that they are interested in and they can watch this on their own time.
Have you seen an increase in followers?
Currently we are putting these videos out via our Instagram and YouTube channels—our Instagram following in particular has seen a sharp increase and we are thrilled as we use this platform to share great imagery on the events and incentive programs that we run—it's a great platform for us to showcase our DMC Network partners, so to drive traffic here is fantastic—and we believe truly interesting for our followers.
How many sessions do you anticipate doing? You have two so far, one on social media and one cooking video. How many of your partners are planning on participating?
We are planning to continue this series well into the Summer, and the plan is to include many of our partners from across the global—it's definitely something that has caught legs so we want to keep up the momentum. Future topics include: Yoga at Home, Mini Meditations and How to Make an Epic Irish Coffee, you will have to follow us to learn more!
Do you think you will continue if and when life returns to some kind of normal?
We really do. Out of these times of crisis some great ideas are often born—and we feel this is one of them. While the idea is particularly of interest at the moment given the #stayhome situation that we all find ourselves in, all of us will continue to spend time at home in the future, and these mini pieces are a great coffee break watch that you can really get useful information from. We really appreciate people giving them a watch to date, and promise to keep the content fun, varied and personal!