Better Booths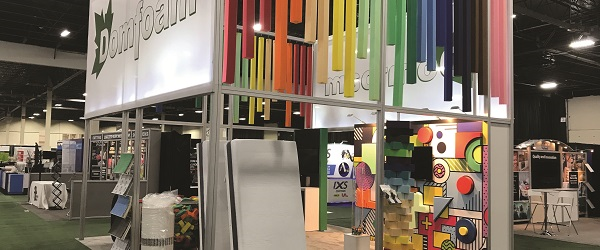 Sustainable trade show materials and processes are a smart choice for eco-conscious planners who want to save money, reduce waste and fight climate change
By Wendy Helfenbaum
With some careful sourcing and smart upcycling, you can transform your trade show booth into a sustainable statement piece:
Decide on Durability
When purchasing booth elements, invest in high-quality materials designed for longevity. For example, trade show panel and banner stands made from lightweight aluminum extrusion systems are produced with minimal environmental impact and can be used many times over, says Anik Forest, president of Archex Display in Montreal.
Other environmentally friendly materials include sustainably sourced Forest Stewardship Council-certified wood like bamboo for exhibit crating, or plywood produced with emissions-free adhesives for display surfaces.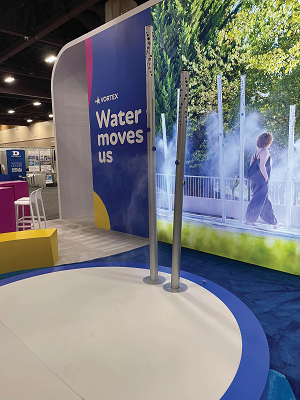 Forest's team recently built a booth for a waterpark client using water-resistant EcoBoard, a recycled PVC material similar to kitchen cutting boards. You can also find shipping cases and fabric graphics made from recycled pop bottles. For greener flooring, choose carpets crafted from biodegradable polymer fibres.
Select Smart Swag
Choose earth-friendly giveaway items, too. Plenty of vendors now offer swag made from recycled plastic bottles or sustainable materials.
Consider Rentals
Want to avoid expensive storage fees and cross-country or international shipping that contributes to greenhouse gas emissions? Rent a trade show booth where your event takes place, suggests Forest. Consider working with a vendor within the OCTANORM Service Partner International (OSPI) network, which has 120 sustainable exhibition builder members in 43 countries. These suppliers can customize your display with modular, re-usable add-ons.
"For a company that does one or two shows a year, renting is by far the easiest way to be more eco-friendly and reduce CO2 emissions by up to 65%. You're using existing exhibit structures that can be reconfigured over and over," explains Forest.
"If a company's exhibiting in Europe, manufacturing a booth and putting it on a boat or an airplane to ship it there is insane. We all use the same aluminum OCTANORM modular system for exhibition displays, so we can design here and build anywhere. It's a major savings for our clients."
Let There Be (LED) Light
Power your exhibit with LED bulbs, which use less than 75% energy than incandescent ones while lasting 25 times longer, which means you'll produce less waste.
Cycle Up
Ask your vendors and printers whether kiosk materials, banner stands and other display items can be recycled so your booth doesn't end up in a landfill.
"We can get a second life for exhibition materials and equipment; we can reuse a counter, a carpet or a light box for another client while adjusting the colours and logo to respect the new brand image," says Forest, who suggests setting up bins to recycle aluminum, metal, PVC, plexiglass and wood at the end of an event, or finding alternative uses for exhibit elements. "We recycle our carpets at the end of their lifecycle; we use them to pad our shipping crates to protect equipment during transport."
Put in a Pop-up
Archex developed Cubox, a portable outdoor event booth made from upcycled shipping containers. They refurnish the interiors for each client, and rent them out for outdoor pop-up events, product activations and roadshows.
"It's very trendy, low cost, personalized branding; during the Just for Laughs Festival, we rented one to General Motors. And if we're doing a roadshow, we can put the containers on a train to where the clients are," she says.
Print Positive
Skip the toxic ink and toner in favour of greener, high-resolution choices that are just as durable, says Forest.
Bonus: the printers using eco-solvent ink—where colours are suspended in a mild biodegradable solvent—tend to emit fewer volatile organic compounds. Opt for stains and finishes containing low volatile organic compounds.