Meetings Forecast
IACC's 2022 Meeting Room of the Future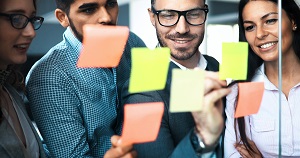 While many of us wish we had a crystal ball to see what the future holds for the industry after the last tumultuous two years, IACC has taken a more scholarly approach. Its 2022 Meeting Room of the Future report was created by students from the Hotel Management School Maastricht in the Netherlands using interviews, a survey and desk-based research.
Some highlights:
• Hub-and-spoke format meetings (in-person regional groups connected virtually), which became popular during the pandemic, are likely to continue.
• 84% of executives surveyed stated that they see higher team productivity when their employees are meeting in-person.
• Human interaction was ranked the highest of seven factors when considering attending an in person meeting, above expanding your network, scheduling and cost of attending. Collaboration with colleagues is also highly ranked.
• Respondents cited teambuilding, training and problem-solving as the main reasons for bringing people together. Status and update meetings are widely regarded as subjects that can be delivered entirely virtually.
• The study pinpointed five factors that meeting bookers will be looking for: more collaboration between meeting participants; high quality of technology; a valuable way of communication; and the venues to recommend new innovative ideas.
"While the pandemic has shown the ease of attending online meetings, it's clear from our report that significant value is placed on face-to-face gatherings. However, the likelihood is that organisations will be more strategic about how and why they bring their teams together," says Mark Cooper, CEO of IACC (which represents small- and medium-sized meeting venues). "It's clear that venues need to be investing both in their on-site offer as well as in ensuring they have the appropriate meeting technology to seamlessly connect companies requiring a hybrid meeting model." iacconline.org