Destination Q&A: Bermuda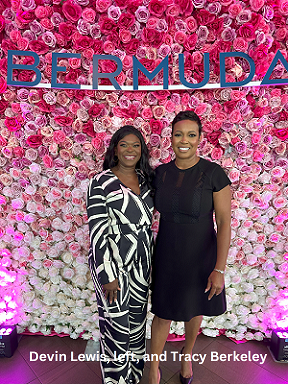 "Bermuda is Back!" That was the message at a recent Toronto event hosted by the Bermuda Tourism Authority aimed at reintroducing the destination to the Canadian market. We sat down with Tracy Berkeley, CEO, and Devin Lewis, vice-president of sales and business development, both with the Bermuda Tourism Authority, to chat about the island's offerings for meetings and incentive travel.
What do meeting and incentive pros need to know about Bermuda now?
Berkeley: When you get to Bermuda, you do not have to stay on your resort, you can leave your resort, you can walk around and you can rent a Twizy (two-passenger electric vehicles), you can get on a bike, you can take a ferry, you can do the bus, the island is your resort. So I think that's what makes us a little different from our Caribbean counterparts. The resort is Bermuda.
Lewis: We've been doing that reset, we've been out saying, 'Hey, have you been to Bermuda lately?' and just reminding them we are a unique island unlike any others. We're not deep into the Caribbean, we are up in the North Atlantic. There's no other island around us. At 21 square miles, you literally almost own the whole island.
What's new in Bermuda?
Berkeley: The St. Regis opened up in 2021. And we have a brand-new airport. And hotels such as the Cambridge Beaches Resort & Spa, the Hamilton Princess & Beach Club, The Rosewood Bermuda and Grotto Bay Beach Resort & Spa have all made multi-million-dollar upgrades.
Are you seeing any trends in the RFPs you are receiving and in your conversations with planners?
Lewis: There needs to be a sense of purpose. They want to know about the history of where they're going, they want to get immersed into the culture. I think that is really our biggest hook.
Incentive trips used to be longer, seven to 10 days. Now, it's about three to four, which means that you have to be more intentional with that time, making sure that the cultural message that we're trying to bestow is weaved within the program. There definitely has to be that educational or meeting component to it, but not all day. We encourage them to get the business done and then let's get out on the island and let's start making those memories.
What can planners expect when they work with the Bermuda Tourism Authority?
Lewis: We're a one stop shop. We really enjoy walking planners through the process, answering all of their questions and anticipating their needs. I love a planner who is interested in giving their attendees a unique experience.
The questions we ask are: Where did you go and what did you do on your last trip? What did attendees think of it? It's making sure that we've done the legwork on educating ourselves on who the group is, why they're coming and the message we want them to leave with.