Ignite your Video
How to make DIY video the star of your show
By Laura Bickle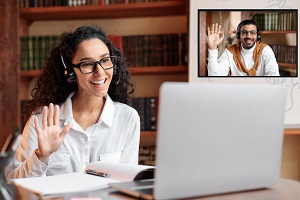 As virtual and hybrid events continue to proliferate, quality pre-recorded video has become a key strategy for audience engagement, whether it's pre-event teasers, education sessions, keynotes or sponsor messages. And it's also a good way to deal with unreliable internet connections and technical glitches. But unless your subjects are video pros, the results can be, um, uneven. "It's important for video to be planned out," says Tammy Bradley, CMP, VEMM, senior account executive at AV-Canada in Toronto, who has received her share of dicey video from clients. "The more professional recordings look, the more the audience will hear and believe the content."
We asked Bradley to share her tips for top-notch video:
Light it up
"Lighting is our biggest nemesis," says Bradley. "People love natural light, but cameras hate it." Natural light can fl uctuate from moment to moment so it's important to have lots of light from other sources shining directly on your face to minimize shadows. Bradley suggests ring lights and supplemental lighting, but make sure they are positioned not to create glare if you wear glasses.
Now hear this
Bradley is a big fan of headsets and earbuds. "They're not the prettiest thing to look at, but they are the best way to get good audio." She adds that device microphones pick up a lot of ambient noise.
Background basics
If you want your AV people to add a background on supplied video, have your subjects record with a portable true green screen. "We absolutely hate the virtual background that Zoom uses," says Bradley. You might also invest in a custom branded screen that presenters can record in front of if you are likely to use it multiple times. But again, says Bradley, make sure it's properly lit.
There's nothing wrong with a real background, just make sure it's professional-looking (Please don't have your bed in the background, says Bradley) and simple. "If you're sitting in front of a bookshelf people are going to get fi xated on what books are on the shelf," says Bradley, "A plain wall with some artwork looks better."
Be perfectly imperfect
Bradley advises presenters against posting the entire presentation in front of them. "As much as they think that people can't tell they're reading, we can. Act as if it is a live event only give yourself the tools that you would have if you were standing on a podium." And don't be afraid of fl ubbing. "Just keep going. It makes it feel like a real, live event."
Tech Tips
If using a cell phone or tablet, be sure to record horizontally.
Turn off the device's auto focus to prevent it from vacillating between different points of focus.
Up your production values by trying Open Broadcaster Software. It's free, easy-to-use software that allows you to record split screens and better control volume, among many other features. obsproject.com
Record at eye level and look directly into the device's camera, not the screen.