2023 Trend Report
Industry pros weigh in on where we're at—and where we're going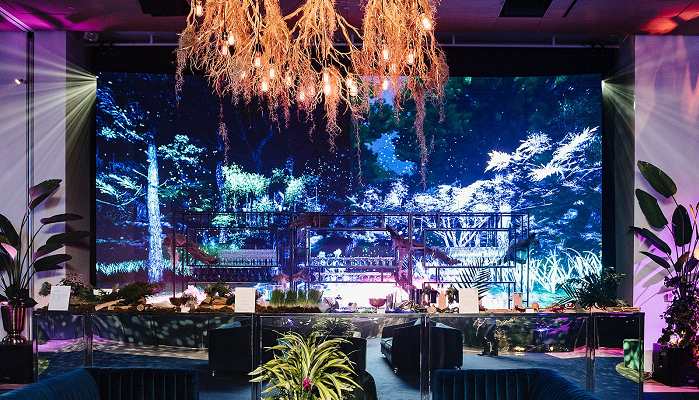 By Laura Bickle
Audio Visual
EXPERT: Jordan Benson, managing director & co-founder JUNōO and president EPiQVision Inc., Toronto THE VIEW FROM HERE: The pent-up demand for events and the pandemic's impact on the workforce has resulted in equipment and labour shortages, says Benson. "It's become a first-come, first-served situation. My advice to planners is to plan as far ahead as possible."
WHAT'S TRENDING: Benson says that elaborate LED displays, which we've seen for a long time in concerts, have made their way to corporate and special events. "Clients are putting a lot of trust and faith into us to execute their events. We've never seen this volume of interest in LED walls—bigger, badder, better. It's been really exciting."
Benson adds that creative use of lighting is becoming popular. "We are being tasked more than ever to use lighting in a more environmental way, rather than just in a functional way—to help create moods and environments, adding a lot of texture, a lot of colour."
Benson is also noticing companies spending more on corporate engagement. "We're seeing more bands playing for audiences and there's a lot more money being put behind those programs."
INSIDER TIP: In terms of virtual events, Benson says demand for online executions that emulate the experience of in-person for the at-home attendee has tapered off (such as a virtual lobby and auditorium, for example). That said, he adds, "There's still a significant percentage of our jobs that are requiring a live stream. We're integrating a lot of broadcast-style graphics that we can throw on the screens in the room. By integrating a live stream, you get that additional bonus of having a better in-person, video experience."
Team Building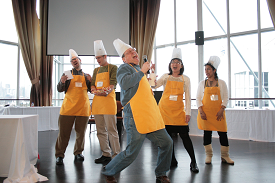 EXPERT: Scott Kress, president, Summit Team Building, St. Catharines, Ont.
THE VIEW FROM HERE: Kress says his company saw a huge surge in in-person team building as soon as restrictions lifted. "Teams are meeting in-person for the first time in two years and there are many people who have never met in-person."
WHAT'S TRENDING: "Teams do not want to spend countless hours in a meeting room poring over data, they want to reconnect and reengage. Although there are some benefits to a remote work environment, it has been hard on team culture, communication, collaboration and trust—elements that are critical to high performance. Our most popular teambuilding programs get people out of the meeting room and actively engaging with one another to build strong relationships."
INSIDER TIP: "As teams have reconnected, many have discovered that their culture and operation are not optimal. They are turning to training and development workshops to help rebuild their team skills and performance. Reconnecting through team building is important, but without the proper team skills, you will stall recovery."
Gifting
THE EXPERT: Nadine Waterfield, founder, Gift Smack Gift Company, Lacombe, Alta.
THE VIEW FROM HERE: Gift boxes—a trend that blew up over the pandemic, is still going strong, says Waterfield, but their intent is evolving. "There's still a number of companies with employees who are working remotely, so they align the boxes with their quarterly virtual meeting. Others are sending them for employee onboarding."
WHAT'S TRENDING: And what's in the box? "Consumables," says Waterfield, "whether it's food or self-care items— things that people can use. On the food side, it's cookies, chocolate, tea, coffee, brittle and popcorn. For self-care, gender-neutral bath items, such as aromatherapy shower steamers, are gaining popularity. Waterfield is seeing a rise in requests for locally sourced gifts, citing a national client who has requested that their recipients receive gifts sourced from their own provinces.
And gift boxes have been elevated to become a "an experience in a box," says Waterfield. "If we're making a Holiday Box, with hot chocolate, treats and a puzzle, we might add a list of suggested movies and music, just to make it a more rounded gift, projecting how clients see the people enjoying the gift."
INSIDER TIP: In terms of packaging, Waterfield says preferences are split down the middle: Those who want a very polished presentation, like a rigid box with high-end accoutrements, and clients who prefer an eco-friendly mailer, which costs less to package and mail. "It really depends on budget and the overall intent of the gift."
Food & Beverage
EXPERT: Trevor Lui, restaurateur, author, founder of Highbell Group and Quell, Toronto
THE VIEW FROM HERE: While there's lots of demand for catering, says Lui, the shortage of event staff and rising food costs are having a big impact. "We have to be very creative in terms of what food we choose: How are we serving it? What is the prep time? What is the service time? What does this look like from an execution perspective? And on the other end, do I have enough skilled labour to execute this dish that you have this vision of giving to the customer?"
And these factors will likely affect budgets. "I'm looking at the cost of events creeping up because at some point we're going to have to pass some of these costs on. If I cannot staff properly, we'll have to go to agencies more often. Three years ago, maybe a server from an agency was $25 an hour, now we're looking at $35 an hour, if not more. Food and the way we produce food for events is going to shift."
WHAT'S TRENDING: Lui says these factors can lead to some innovative and memorable food experiences if planners, suppliers and customers are willing to get out of their comfort zones. Lui cites recent events where his company has served pre-made bento boxes, eliminating the need for servers to deliver food and monitor food stations. He says tuna poke bowls and Bibimbap—not traditional conference food—served at a tech conference last summer were very well received. "The attendees were like, 'Oh, wow.' They really didn't want to go to a conference and eat the same boring food all the time…. Our attendee base is not what it was 10 years ago. They are more a reflection of our population, which is over 55% ethnic. So I think it's really important for that to be reflected in food service and events."
INSIDER TIP: Don't be afraid to question what you've always done. One rethink Lui did was cutting out hot coffee at the same tech conference, which had a young demographic. "They show up with their own coffee anyway. Coffee at events is anywhere from $4 to as high as $9 a cup. And it's just being poured down the drain." So instead, they offered nitro cold brew from a local coffee vendor, with no complaints.
Content
EXPERT: Theresa Beenken, CEO, National Speakers Bureau, Toronto
THE VIEW FROM HERE: Beenken says they are currently booking about 75% in-person and 25% virtual events. "We saw very short turnaround booking cycles in the past two years and I'm happy to see clients are now booking into the future."
WHAT'S TRENDING: "Our corporate and association clients need the most current information and insights to help navigate this new world from speakers with lived experience and fresh perspectives," says Beenken. "The most popular speakers are constantly adding new, relevant content; pre-pandemic examples and mindsets don't resonate in this new era."
Topics of innovation, leadership and disruption are gaining in popularity. "Macro insights are resonating—future of work, economic trends, global affairs—with attention to localized actions and practical takeaways." Beenken adds that "socially responsible content and actioning equity, diversity & inclusion are on many agendas, and diverse voices are on more and more stages."
The creative use of technology is helping speakers further connect with their audience, before, during and after the presentation. "Speakers are engaging on social media to really help make the material relevant," says Beenken. "I'm also seeing more speakers embrace quiz technology during the session, virtually or in person, to see what the audience thinks in real time." She also points to speakers who offer short post-event workshop-like opportunities.
INSIDER TIP: Beenken says that many organizations are augmenting their large annual in-person conferences with virtual sessions throughout the year, "to help with the continuity of the messaging and bringing people together."
Conference Management
EXPERT: Amy Ruddell, vice-president, Macgregor Communications, Markham, Ont.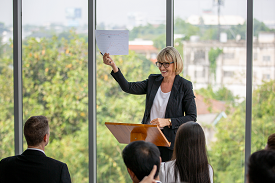 THE VIEW FROM HERE: "We're seeing attendance at about 50% of pre-pandemic levels," says Ruddell, who organizes several annual conferences, including the Administrative Professionals Conference, April 23-26 in Toronto.
WHAT'S TRENDING: Ruddell says her conference program has been modified to accommodate lower attendance and post-pandemic sensibilities. "If at one time we offered eight concurrent tracks, we've reduced that to four or five. In terms of content, I'm seeing a lot of interest in change management, dealing with virtual teams. Stress is a big one: People didn't use to glom on to the soft skills training as much but it seems to be really resonating with people."
INSIDER TIP: Know that the rules of registration have changed: "We are seeing people registering the day of or the day before the event. That never used to happen—people would want to get in early and take advantage of discounts for early registration."
Sustainable Events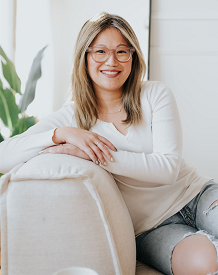 THE EXPERT: Romina Kwong, lead sustainability consultant, Eco-Friendly Events, Toronto
THE VIEW FROM HERE: Kwong says education is a major obstacle of sustainable events, including "confusing information between compostable vs biodegradable and misinformation on waste management practices."
WHAT'S TRENDING: Kwong is optimistic that the pandemic swing to virtual and hybrid events—which have a lower environmental impact than in-person— will continue. For in-person events, Kwong is seeing increased conversation around permanent event decor or utilizing the decor already in the venue, as well as purposeful and mindful planning when it comes to decor or swag.
For menus, Kwong predicts "creative, meatless options and labelling where foods and items come from and their environmental impact."
INSIDER TIP: "Simply swapping plastic for compostable items" is not a cure-all, says Kwong. Waste reduction should be the first step.
Hotels
THE EXPERT: Laura Pallotta, regional vice-president, sales and distribution, Canada Region, Marriott International, Toronto
THE VIEW FROM HERE: "The big question on everyone's mind is, 'Do you have the staffing?,'" says Pallotta. "We are in a much better place than we were four or fi ve months ago. Our hiring has really aligned with the recovery of travel." She adds that "we're seeing an increase in incentive business and recognition-style events, or recognition being a significant part of a corporate meeting. Also, there's a significant need to gather face to face to ideate for the future with all of the changes that have been going on in business." However, the booking window for events has shortened, says Pallotta, "as businesses are evolving and folks are still getting comfortable travelling again."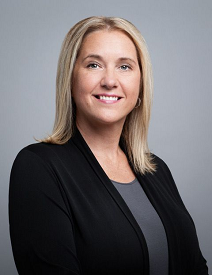 WHAT'S TRENDING: Business travellers are increasingly tacking vacation onto trips, partially because the pandemic proved that people can work from anywhere.
In terms of meeting spaces, Pallotta says Marriott is focusing on "a creating an intuitive, holistic experience, spaces to connect and to be productive. It's not a box meeting room anymore: it's got more soft seating and art, and lighting that's more flexible to different needs." (See page 20 for an example of Marriott's new meeting spaces at the Sheraton Gateway Toronto.) Where hotels used outside spaces out of necessity during the pandemic, Pallotta says that trend is continuing. "There's a whole new frontier in creating these really interesting experiences."
INSIDER TIP: Pallotta expects large markets such as Toronto, Vancouver and Montreal to be heavily booked with city-wides and rebookings for some time. She suggests planners see that as an opportunity to explore smaller Canadian markets. "They have phenomenal hotel and convention space. And our owners have invested in renovations over the last couple of years."