How will extended airport lineups impact business and group travel?
By Allan Lynch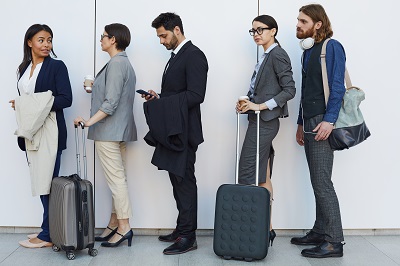 As if a two-year-long global pandemic lockdown wasn't annoying enough, travellers are enduring slug-like lines for airport security and customs. Officially, air passengers are recommended to arrive at the airport two hours before domestic flights and three hours for international departures. But with some security lines taking 75-90 minutes, that timeline seems woefully inadequate.
At Pearson International Airport (YYZ), passenger complaints of 80-minute waits for baggage check-ins, followed by mile-long, 90-minute lineups for security checks, prompted Toronto Region Board of Trade president and CEO Jan De Silva to hold a May 12 press conference. "Over the past week alone more than 100,000 people, 50% of travellers moving through Toronto Pearson, suffered extensive delays. International passengers are being forced to wait for up to three hours, sometimes inside the aircraft they flew in on, because of longer processing times by customs officers. These challenges reflect staffing shortages and outdated pandemic policies that create unnecessary delays. When the need was there we did the right thing and we protected travellers and our economy by putting new policies in place. But now to realize our potential we must act to reduce the duplications, withdraw the restrictions that were put in place and fully reopen our economy."
There are rumours afloat that some groups, specifically sports related, may have skipped lineups to drive across the border for flights.
Elsewhere, Montreal-Trudeau International Airport (YUL) has been advising travellers to come three hours ahead of all flight times.
Halifax Stanfield International Airport (YHZ) reports their security lines are at a pre-pandemic 5-20 minute average. However, notes Leah Batstone, communications and marketing advisor with YHZ, "As travel returns to volumes near or exceeding 2019 levels, many smaller markets such as ours could face similar challenges with longer lineups during the busy summer season."
This may be another manifestation of the big resignation. Suzanne Perseo of Canadian Air Transport Security Authority (CATSA) media relations says, "Wait times at any airport occur for various reasons, even when staffing levels are optimal, and can fluctuate throughout the day based on passenger volume/number of flights. At the beginning of the pandemic, we had almost 7,400 screening officers across the country. Today, we have approximately 6,500 active and pre-certified screening officers. CATSA is targeting the hiring of approximately 1,000 screening officers this year, in addition to over 1,200 recalled in 2021."
So far the airport chaos hasn't manifested itself at either the Vancouver or Toronto convention centres. David Chisholm, vice-president of sales for the Metro Toronto Convention Centre, says, "We are not seeing anyone delay or modify their events at this time. It would be my opinion that it will be a short- to mid-term issue. We all are trying to find more people to work. The labour shortage for the travel and hospitality industry is a far greater issue."
While it's too early to quantify how much damage this issue causes group business, it is impacting some. David Morrison, group sales manager with Uniglobe Specialty Travel, says after several frustrating experiences at Pearson, "a group client pulled the plug" on a 120-person incentive planned for November "and will revisit next year. He simply does not want his people to be subjected to that type of delay or lineups. It's very frustrating as we are doing everything we can to try to rebuild confidence in the travel sector after two disastrous years. The one thing we should not have to worry about is service at the airport, and yet it could be our biggest obstacle."