Why every organization needs a corporate travel policy
by Allan Lynch
Greeley Koch laughs when travel buyers justify the lack of a corporate travel policy with the excuse: "We don't travel internationally, so we don't worry about it." Koch, former executive director of the Association of Corporate Travel Executives (ACTE) and recently appointed vice-president of marketing for HRS, a hotel procurement company, says,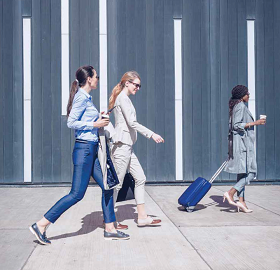 "some people have their heads in the sand. Any city these days can have some issue. You need to be prepared."
Stephen Smith, senior vice-president, marketing and communications, with Toronto-based Vision Travel Solutions, suggests the only real difference is that the "duty of care solutions often differ for domestic travel versus foreign travel. Foreign travel may require a more robust duty of care solution."
Policy Power
Koch says 99 per cent of large companies (those spending over $25 million on travel) will have a policy, while smaller and medium-sized companies are growing their development and use of travel policies. "We see a shift in focus on the traveller and less on the cost. The shift is more about traveller productivity, trip ROI and traveller friction—how hard it is out there on the road," says Koch. "Research is showing that retention and recruitment of employees is now being tied to the travel program and how companies are treating employees on the road."
Among considerations is the type of travel. Revenue-producing trips, for example, could justify upgrades to business class seats and better, centrally-located hotels as aids to traveller productivity and ROI.
Quantifying a trip's success is something 87 per cent of companies feel is important, but only 21 per cent are managing to do. That is ACTE's key research project for 2019.
ACTE finds that corporate travel policies are also becoming multi-tasking documents dealing with aspects from digital security of technology at border crossings to managing adverse events at home. "We're seeing the duty of care packages, travel tracking and emergency responses put in place after 9/11 provide the framework to track and assist non-travelling employees."
Keep it Current
ACTE's regional manager for Canada, Amber Hall, adds that generational-driven change is how companies ensure compliance or understanding of policies. She's finding that companies, especially in the tech sector, quiz employees on their reading of company policy. "They may test employees on the top 10 things they want you to know about this policy," then use the bulk of wrong answers as a guide to gaps in communication.
As for how often policies should be reviewed, Smith says, "We recommend reviewing a travel policy every year. There are also external factors (such as the recent cannabis legalization and the enactment of the EU General Data Protection Regulation) that could merit an immediate review. Ultimately, it depends on the company, the nature of their travel program as well as the scope of their corporate culture. If a company is changing dynamically, they may want to review their travel policy more often than once a year."