Recent developments in the airline industry could mean stormy skies ahead for group and business travel
By Allan Lynch
Canadians haven't seen as many headlines about air service since J.A.D. McCurdy made the first flight in the British Empire on the Bras d'Or Lakes in 1909.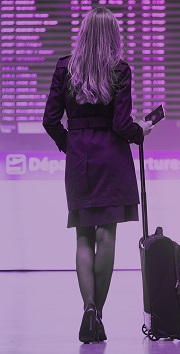 In recent months, safety questions grounded Boeing's popular 737 Max 8 aircraft, Air Canada bid to take over Air Transat and Onex Corporation announced plans to purchase WestJet. The purchases are subject to competition bureau approval, but it was a triple whammy that impacted travellers and raised questions in the meetings and incentive sectors.
After crashes of Max 8s flown by Lion Air and Ethiopian Airlines, the fleet was grounded while these events were investigated. Initially the Max 8s were parked until July, but that has been extended into the fall. On the upside, the loss of service happened at the industry's traditional low season.
The Max 8 is a popular purchase for airlines because it is such an economical plane to operate. Air Canada has 24 (about 10 per cent of their fleet), WestJet has 13 and Sunwing four. According to a regulatory filing, the grounding of American Airlines' 24 Max 8s resulted in 7,800 cancelled flights in the second quarter of 2019. In Canada, the real scramble was to find alternative service to tier-two destinations.
Stefano Mastrantonio, national manager for group sales with Air Canada, says in the past when the industry ran into problems "we could reach out to other carriers, but the problem with this is that everybody is affected. So we have had limited ability to react as we would like."
He continues, "with leased aircraft we were able to cover a big portion of the routes we intended to fly. It's not like we are leaving passengers without. We have made some cancellations, but we have offered alternatives. May and June were the tough months because we were reacting. But looking ahead, it's easier to build a schedule that doesn't include the aircraft than having a schedule in place and trying to adjust aircraft."
From the client perspective, Nagesh Peri, director of transportation with Meridican Incentive Consultants, says the main disruption they had with an April group headed to Los Cabos was with bringing attendees from smaller cities to make connections in Toronto. "Internationally, the airlines managed somehow with just minor schedule changes. Overall the airlines have rescheduled pretty smoothly."
Peri says he has spent more time dealing with storm-related disruptions than those caused by the grounding of the Max 8. However, looking forward, he wonders about attendee resistance to travelling on the Max 8.
"The fear is out there. Our people never used to pay attention to what aircraft it was when you sent a confirmation and now that is the first thing they want to see."
His observation mirrors a Global Business Travel Association poll which found 80 per cent of business travel managers were concerned about employee resistance to flying the Max 8.
As for implications of the sale of WestJet to Onex and Air Transat to Air Canada, all parties say it is too early to know. Peri sees a potential reduction in service to destinations Air Transat and Air Canada both fly to, such as Cancun, resulting in higher prices. He speculates Air Canada could use Rouge to replace Air Transat's Gatwick service to compete with WestJet's service—and lower prices—to Gatwick.
The other angle to the Air Canada-Air Transat deal is whether or not the hotels and resorts are included. That could allow the company to enter the incentive and meetings business with a transportation- accommodation-meeting space package. Mastrantonio says, "Absolutely we could have some interest in the hotel combination and offering something we don't offer today, but it's too early for my level to understand what's happening until the deal is closed."
Less headline-grabbing, but of interest to planners and bookers, is Air Canada's move from a 30-year-old legacy booking system to Amadeus. "We're very limited in what we can do today. When we launch this we will have a group tool that does away with a lot of manual steps that are involved in, for example, adding names to a group or searching for pricing and availability."
In six months, Canada's airline industry will have changed more significantly than in all our aviation history.