By Allan Britnell
Data is big business. Event planners have several tools at their disposal to collect data to improve events while they happen—in the future—and provide concrete stats to clients and sponsors. But you also have to be extremely careful that any data you gather is done so with approval and is securely stored. Here's a primer on what you can collect, how to do it and the importance of privacy and security.
Collection Agency
"You could technically collect almost anything you want [about attendees]," says Jillian Wood, senior marketing manager at Toronto-based EventMobi. This includes everything from names, job titles and whether or not they've attended before, to travel doc­uments and credit card info. "Any information that can identify a person is the tricky stuff," she adds. Here's what to consider at the various stages of the process:
Pre-Event
Your event registration site is stage one for data collection. Two of the pre-event data sets you can collect are:
Demographic data (job titles, industry they work in, age, geographic location, etc.). This can be some of the most valuable info you gather. Aggregating job titles, for exam­ple, can help exhibitors and presenters get a better picture of your audience. You can also use that info to organize tailored networking sessions or to determine which pre­sentations draw the most C-suite attendees.
Registration rates. By offering discount codes or including a field asking how registrants found out about the event, you can tailor your marketing program for future events.
During
Live data-collection? Of course there's an app for that! There are a number of event-planning apps, including Bizzabo, Cvent, Eventbrite and EventMobi. These apps not only provide attendees with instantly updated event info, they allow you to gather even more information, by conducting real-time surveys and using geo-location features to monitor any crowd control issues.
Other ways to collect data include:
RFID badges make it easy for exhibitors to quickly scan and share contact info and other resources with attendees. On the back end you can tally the number of these exchanges and use that in your ROI presentation to participants.
Monitor social media postings and try to collect as many as possible by promoting an event-specific hashtag.
An onsite photo booth, or a roving mascot or celebrity with a photographer in tow offering free digital images in exchange for an email address helps build an attendee data­base at events that don't require pre-registration.
After
Compare registration rates with actual attendance. Did some marketing streams produce higher attendance?
Analytics can tell you which web pages were most viewed and the amount of time spent on them, or which features in the event app were most used.
Review survey responses for areas to improve, and look for positive comments that can be used in future marketing programs.
Gaming the System
One popular way to generate audience engage­ment—and therefore more data—is to "gamify" your event using an event app. Games can be used to incentivize attendance and onsite inter­actions with sponsors, specific vendors or even other attendees. Prominently post a leaderboard so attendees can track who's most active in the game. Solicit prizes from exhibitors. They'll likely have giveaway items anyway—this will give them an event-wide platform for promotion. You can offer prizes for top finishers, but also hold random draws throughout the event to retain engagement with those not making the leaderboard.
Points can be doled out for actions such as:
Attending seminars and keynote speeches.
Checking in to sessions a set amount of time before they begin.
Posting to social media platforms.
Visiting specific booths or sponsor areas.
Completing event surveys.
Privacy Protection
The gold standard for privacy protection is the European Union's General Data Protection Regulation (GDPR). This program runs under the principal of "informed content" and requires anyone collecting data to disclose that they're doing so, the purpose(s) it will be used for and duration of time it will be held for. Even if all your clients and attendees are North American-based, it's wise to have solid disclosure and data protection plans in place.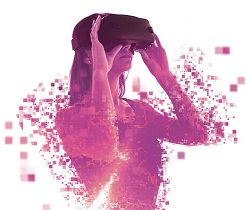 The various event apps include templates for privacy policies and opt-in forms. If you're not using one of these, you'll want to consult with a data privacy expert to develop your own. Also consult Canada's Anti-spam legislation that came into effect in 2014 (fightspam.gc.ca).
It's equally important that you protect data you collect from getting intercepted by hackers. Steps range from not using easy-to-hack passwords ("Event 2018") and limiting employee access to various databases on a strict need-to-know basis, to using encryption software and two-step login verification.
Finally, be realistic about how long you need to keep the data you collect. "It's become cheap and easy to store data and become a hoarder," says Martin Kuplens-Ewart, senior product manager at EventMobi. You may have in the back of your mind that it would be nice to compare various data points from past years. "But the risks keep stacking up the longer you keep it," he says. "It might seem useful, but let's be honest, if you haven't used it in two years then it's probably not."