How wellness retreats can help nurture healthy and productive employees
By Anne Dimon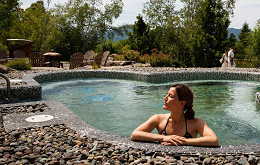 The value of a wellness retreat is not simply for the participants who will return refreshed and rejuvenated, perhaps even on a new path to a healthier life, but for the corporation that is making the effort to help keep their valued executives in tip-top shape—mentally and physically.
The key to ensuring success is knowing the goal and the players. That means selecting a destination and a program that will resonate with the participants based on their individual objectives and interests.
Programs—typically three, four or seven nights and expressly designed for time-challenged executives—can be geared to weight loss, stress management, a rebooting of body and mind, or something completely transformative. They can also include components of medical testing to help participants establishing health and fitness benchmarks.
Finding the right fit
Of course, knowing the participant is key. While one person might be thrilled at the prospect of a week at a luxurious spa filled with back-to-back treatments and daily yoga, another might be more inclined to delight in a program that includes challenging daily hikes or other physical pursuits paired with a cuisine that encourages a gentle detox. Sometimes, one participant will want a structured, guided program, the next will prefer a retreat that is more self-directed but with a full menu of available classes and workshops to select from.
Today, planners are in luck for two main reasons: The options available are wide and varied including those at the luxury level, and personalization of wellness retreats—where each participant follows his or her own customized program—is a growing trend.
Here are three executive wellness retreat options to have on your radar:
Spa Eastman, Quebec
With a view to Mount Orford in the Eastern Townships region of Quebec, Spa Eastman offers a five, seven or 14-day Health Immersion package. Following one-on-one consultations to determine objectives and evaluate needs, guests are scheduled for sessions with a health coach, a naturopath and a kinesiologist. Workshops and conferences on the art of living healthy plus daily fitness activities are also part of the program. Other offerings include nearby hiking trails, a gym and the Eastman-les-Bains water circuit. Daily meals are based on Spa Eastman's signature Hypotoxic cuisine. Prices start at $1,571.
Rancho La Puerta, Mexico
All Rancho La Puerta executive wellness programs begin with a five-hour, comprehensive medical exam at the Lifewellness Institute in San Diego. The following seven-night stay at nearby Rancho La Puerta in Tecate, Mexico, includes one-on-one sessions with Ranch experts plus access to a number of specialists including a physician, a nutritionist and an exercise specialist, each reviewing the tests and crafting personalized programs appropriate for each guests' needs and goals. Cost for the eight-night program is $6,950 US.
Hilton Head Health, South Carolina
Specializing in weight loss and lifestyle management, Hilton Head Health, Hilton Head Island in South Carolina, offers executives the seven night (or longer) LIVE WELL Program. Available year-round in this tropical island setting, the all-inclusive, customized program includes a health assessment, daily educational sessions, five to six hours of exercise each day including options such as yoga, core strength, water fitness, Zumba and circuit training. Meals and snacks are calorie-counted. Prices start at $3,290 US.