New thoughts on the ROI of incentive programs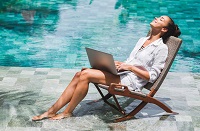 By Alex Newman
Tracking the ROI on your incentive programs isn't some make-work project for businesses, says Rick Garlick, a hospitality sector expert specializing in employee engagment. "It could actually protect you in an economic downturn."
Garlick is vice-president, strategy consultant, with Magid's Travel, Leisure and Hospitality (THL) prac-tice in Minneapolis, Minn. He has been researching incentive programs for a while, ever since the recent "Great" recession when rhetoric around "wasteful spending negatively impacted incentive programs." He recently spoke to the Global Meeting & Incentive Travel Exchange emphasizing how important it is to develop metrics to measure ROI on travel incentive programs.
The programs do work, he says, especially with employee engagement which is a big predictor of productivity and profitability—you just have to know what you want to accomplish and how to measure once done.
It's especially important now, he adds, when many indicators point to an economic slowdown in the next year or so. When that happens—and it will, he insists—the smart companies will already know what programs to keep to ensure a hedge against economy dips.
The bottom line for incentive programs, he says, is profitability and whether a program pays for itself. How you get to increased profits depends on the industry, and every industry is different. So, it's important to choose the program based on what drives your business—and what best motivates your employee population.
If it's straight sales, productivity and profitability are easier to measure, Garlick says. Trickier is trying to measure undefined outcomes, and in the travel and hospitality industry, where most of his consulting is done, the route to profitability is a little more roundabout.
Among travel companies surveyed by Magid, strengthening employee engagement and the relationship between employees and management were important.
One of the most successful HR metrics, Garlick has found, is the employee attitude survey conducted simultaneously with employee performance reviews. While a lot depends on the questions asked, the goal is to determine employee intentions to remain long-term, and whether they'd recommend this place of work to someone else. You could also be direct and ask in the survey how fair and effective employees consider incentive programs.
Once you understand performance drivers, you can select an incentive program to encourage that result, whether it's sales or employee engagement and loyalty.
Sadly, only one in four companies tracks its ROI on incentives, based on a recent study, says Garlick. "Many companies are fuzzy on why they keep an incentive program, and often it's because they've always done it that way. That response makes me nervous because if you aren't determining what's effective now, you won't know what works—or doesn't— when the next recession hits. When times get tough companies cut programs—and it may be the wrong program you cut."