by Laura Bickle
Large and loud parties may be off the table this year, but that doesn't mean companies have to let the season pass without some festive fun. With some thoughtful planning, you can still bring the holiday spirit to your team, either in person, virtually or delivered to their door.
Consider doing your holiday get-togethers by department or by team, if your local rules allow it. And consult a team building company on activities you can do at your holiday get-together that encourage interaction while still social distancing. Check out these festive ideas: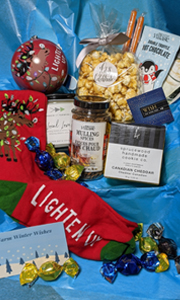 Think inside the Box
Help recipients unwrap warm feelings with a custom holiday gift box from Ontario-based Chocolate Soup. There are several themes and price points to choose from and Chocolate Soup takes care of the packing, wrapping and shipping—and they'll even handwrite the cards!
Prices start at $40 per person plus shipping across Canada and to the US. Shown: Snowball Gift Box, $70 plus shipping (contents may vary).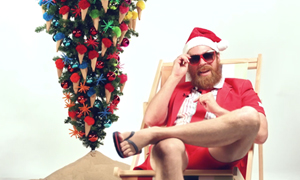 Virtual Merriment
The team at the Idea Hunter have two virtual entertainment ideas that can be enjoyed by kids and adults alike. The Holiday hunt is a scavenger hunt that challenges participants to find holiday-themed items in their own homes. First one to get back to their seat and turn their camera on, holding the correct item wins! Or, have Santa customize a video message for your group, offer story time or host the entire holiday event.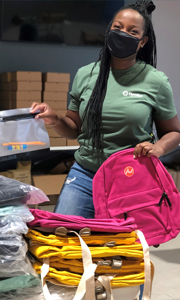 Make an Impact
Help your team get in the spirit of season by making a difference in their community. Kits for a Cause, a social enterprise created by The Bargains Group, provides care packages for non-profits and social services. They supply everything you need to assemble the packages and coaches you on how to run the program. It can be done in participant's home or onsite in accordance with safety regulations. With hundreds of non-profit partners across the country, you can find a charity and package theme that speaks to your team's values.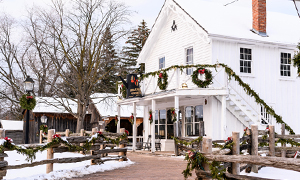 Winter Wonderland
Consider an outdoor activity to reduce contact and decrease the likelihood of transmission. One option: The Enchanted Christmas Village at Black Creek Pioneer Village. Guests will tour the main street of the village and enjoy stories, crafts, a bonfire and hot cocoa as they take part in festive traditions of days gone by.
blackcreek.bypeterandpauls.com/social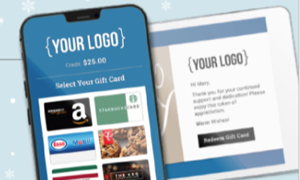 Get Carded
Allow employees to choose their virtual gift card from 250 of Canada's most popular merchants with the Everything Card. You just submit recipients' contact info and the dollar amount and Everything Card will create a festive email with a custom, branded message.