SPONSORED BY DESTINATION CANADA

Photo: Jeremy Koreski/Nimmo Bay Resort
Gather your top performers in Canada's most remarkable locations to savour the bounty of land and sea, and the distinct flavours that showcase the country's diversity. Reward them with revitalizing wellness experiences in the most inspired and covetable settings. From oases in the coastal wilderness and motivating mountain retreats, to awe-inspiring journeys at the edge of the Arctic and exhilarating urban adventures, celebrate earners' achievements with the ultimate incentive that will fuel creativity, rejuvenate the soul and nurture their focus and determination.

Wilderness massage | Photo: Nimmo Bay Resort/Jeremy Koreski
Nimmo Bay Resort, British Columbia
In a remote and rugged Pacific Coast setting, unforgettable rewards await your incentive winners as they discover a deeper connection with nature—and with themselves—at Nimmo Bay Resort. The tranquility of the surrounding wilderness inspires innovative ideas, while shared adventures, and customized wellness and culinary experiences, incite team camaraderie and positive change.
Located in the lush Great Bear Rainforest, guests arrive by floatplane or helicopter to this secluded luxury property. The experts at Nimmo Bay curate bespoke programs for personal and professional growth. Brianna Sloan, marketing and reservations, says, "We have a very creative team that are looking to wow guests with something that has never been done before," adding, "as staff get to know guests, moments are created based on their interests, so experiences can be unique to each group."
Nestled in temperate rainforest, wellness is inherent in every stay, but enhancements can be woven into itineraries. Transformative holistic treatments, private yoga sessions in the wild and soothing steams in the floating cedar sauna leave groups invigorated. Forest bathing in groves of giant cedars and ferns engages guests' senses as they are led through guided reflections and journaling.

(Left) Kayaking the channels | Photo: Nimmo Bay Resort/Jeremy Koreski (Right) Coastal Dining | Photo: Nimmo Bay Resort/Jeremy Koreski
Push your team outside their comfort zones with helicopter journeys and coastal safari adventures to out-of-this-world wilderness locations. As they paddle board off remote beaches, hike through old-growth forests and fly fish in glacier-fed rivers, they'll be stirred by the sight of bears foraging along the shoreline and orcas roaming the waters around Nimmo Bay.
The resort's hyper-sustainable culinary approach, highlighting the bounty of the Pacific Northwest, delivers a nourishing, multi-sensory experience, connecting guests to this natural setting. Linnea LeTourneau, executive chef, notes that with their favourable location between land and ocean, they can respectfully forage ingredients from the forest and ocean floor. Groups can take part in the earth-to-table experience by gathering wild vegetation on hikes, having Nimmo Bay guides free dive for their dinner and learning how the culinary team showcases the fresh, delicate flavours. LeTourneau says, "We try to present the ingredients to guests with as little manipulation as possible to show them for what they are—and allow them to shine."
CLICK HERE to read our interview with Chef Linnea LeTourneau

Dan's Diner, Frontiers North | Photo: Frontiers North Adventures
Known as the polar bear capital of the world and mecca for beluga whales, and one of the best places on earth to see the breathtaking aurora borealis—the town of Churchill in northern Manitoba provides an unforgettable Canadian safari experience. Immersive encounters with majestic creatures and spying the northern lights as they dance across vast, open skies will be the catalyst that drives your top achievers to reach their goals.
Incentive winners will be captivated by the sight of polar bears outside the windows of the Frontiers North Tundra Buggy Lodge. From the observation deck, groups can watch these majestic creatures of the north travel across the vast landscape of Polar Bear Point in the Churchill Wildlife Management Area during the autumn migration and snap a picture as they meander up to greet their new visitors.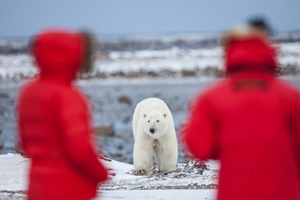 Photo: Destination Canada
Cold winter nights are the best time of year to see the otherworldly northern lights illuminating the infinite night sky. At Dan's Diner on the banks of Churchill River, your team can savour an exclusive culinary feast beneath this awe-inspiring phenomenon. Groups arrive at this remote pop-up restaurant in a Tundra Buggy, where chefs Jared Fossen and Paul Eccles curate an unforgettable multi-course menu that highlights the flavours of Manitoba. As the brilliant aurora flickers through the panoramic windows and skylights overhead, conversation flows, teams reconnect and memories are forged. It's a treasured experience for adventure seekers and food lovers alike.
A visit to Dan's Diner is part of a "Northern Lights and Winter Nights Enthusiast" adventure with Frontiers North that will also have your team snowshoeing along Hudson Bay, dog sledding through the boreal forest and learning about the local history and culture through the Inuit carvings and artifacts at the Itsanitaq Museum.
The summertime migration of beluga whales sees the Churchill River estuary teeming with these intelligent "canaries of the sea." Hear their squeaks and whistles through hydrophones as they frolic alongside your Zodiac during an exhilarating Sea North Tours excursion. Challenge your team with a guided sea kayak or stand-up paddle board excursion among the curious pods.
CLICK HERE to see Dan's Diner experience

Snowshoeing, Fairmont Chateau Lake Louise | Photo: Fairmont Chateau Lake Louise

Banff and Lake Louise, Alberta
Exhilarating adventure, snow-capped majestic peaks at every turn and world-class dining place this Rocky Mountain playground at the top of every Canadian's bucket list. Banff and Lake Louise in Banff National Park, a UNESCO World Heritage Site, is where achievements are celebrated and top earners are rewarded with inspiring and revitalizing experiences.
Bright, restorative sunshine and mountain adventures are the hallmark of Banff summers. Danielle Powell, director and owner, BANFF DMC Inc., enhances mountain hikes by stopping at awe-inspiring viewpoints for yoga and meditation, or inviting local climbers or Canadians who have summited Mount Everest to join the group, providing personal and professional motivation.
Hit the backcountry on horseback with Banff Trail Riders, then toast your team with a hearty Alberta beef dinner. Natasha Oliveira, senior program manager, Creative Group, hosted a group at Mount View Barbecue. "This was an evening to remember and so much fun for our guests! The venue is turnkey and provided Western decor, a delicious barbecue feast, full bar and live entertainment, offering a unique experience you can't find elsewhere."
Exclusive experiences offered by the Fairmont Banff Springs, such as guided bike rides along the Bow River and Vermilion Lakes, and golf cart tours to spy the roaming local wildlife, bring a renewed energy to your team. At the end of the day, they can connect under the stars with an intimate, locally-inspired gourmet dinner at 360° Dome, Fairmont's new outdoor igloo-like venue.


(Left) Banff Trail Rides | Photo: Travel Alberta/Noel Hendrickson (Right) 360 Dome, Fairmont Banff Springs | Photo: Travel Alberta/AV Wakefield
In the winter, Banff National Park becomes a magical wonderland of breathtaking possibilities. Have your peak performers lace up for a skate on frozen Lake Louise, ski world-renowned terrain or climb icy waterfalls, coordinated by The Mountain Adventure Program at Fairmont Chateau Lake Louise. Lana Casavant, senior sales executive, Rare Indigo Destination Management, suggests an invigorating snowshoe excursion through fresh, deep powder, whetting the appetite for a delectable lunch served mountain-top by Fairmont Chateau Lake Louise chefs. Or a nighttime snowshoe trek across Lake Louise—s'mores, a steaming cup of hot chocolate and roaring fire await on the other side.
Motivate your team to achieve their goals with the truly unique and immersive Wim Hof Method experience at Fairmont Chateau Lake Louise. Facilitated by a certified instructor, they'll learn to utilize oxygen and cold exposure therapy for optimal health, reduced stress and heightened focus and determination.

Photo: Niagara Helicopters Ltd.

Toronto and the Niagara Region, Ontario
On the shores of Lake Ontario, the energy and hip, contemporary vibe of Toronto, coupled with the bucolic landscapes of the Niagara Region and formidable natural wonder that is Niagara Falls, set the stage for extraordinary experiences that will motivate your top performers to earn their trip. Recognize their achievements with world-class dining at iconic venues and epic gatherings at vibrant cultural attractions.
Toronto is a hub for unforgettable, dynamic experiences for incentive groups, offering endless options for exhilarating urban adventures and a celebrated culinary scene that showcases its multiculturalism. To push your team out of their comfort zones, challenge them with an adrenaline- charged, hands-free EdgeWalk along the CN Tower's wide outer ledge, 116 storeys up. Afterwards, head inside for exceptional regional cuisine and unparalleled views of the city at 360, the exclusive revolving restaurant.
At street level, an energizing bike tour around the city with Toronto Bicycle Tours & Events will take your team to the city's top cultural and historical landmarks, from the St. Lawrence Market and the Art Gallery of Ontario, to Chinatown and the Entertainment District. End the day with a dine-around in the Distillery District, a National Historic Site, where groups can connect over global flavours and craft beers and spirits, and explore the boutiques, galleries and art installations that line the cobblestone streets.


(Left) EdgeWalk, Toronto | Photo: CN Tower (Right) Niagara City Cruises | Photo: Niagara Falls Tourism
A short drive from the city brings your group to the Niagara Region's internationally recognized wineries, spectacular dining and the awe- inspiring Niagara Falls. Top achievers will be close enough to feel the mist from the roaring falls on an exhilarating Niagara City Cruises' Voyage to the Falls tour.
Wine tasting is elevated to new heights when your VIPs are helicoptered to the region's top wineries, indulging in breathtaking views of the thundering falls and the picturesque region along the way, and landing among the vineyards in Niagara-on-the-Lake for samplings of award-winning wines and farm-to-table fare.
Groups can recharge with a yoga session amongst the vines at Peller Estates, followed by a tour, mimosa in hand, suggests Anita Carlyle, managing partner, Moore Carlyle Consulting & MCC Destination Management. In the barrel cellar, raise a glass to your peak performers with a private farm-to-table dinner paired with Peller's finest vintages, followed by a sampling of their award-winning icewine in their exclusive igloo-like 10Below Icewine Lounge.
CLICK HERE to see the EdgeWalk experience in action
Continue the journey with us
Destination Canada's Business Events team is your resource for exceptional experiences across Canada.
businesseventscanada.ca | #MeetInCanada
Jennifer Attersall, Director, Incentive Travel
attersall.jennifer@destinationcanada.com | 403-923-5972
Find more inspiration in Destination Canada's Canadian Signature Incentive Experience Collection e-book. The next chapters, 'Taste' and 'Wellness,' are now revealed at ignitemag.ca/canada