How the wellness trend has impacted incentive travel
By Waheeda Harris
In 2010, Health and Fitness Travel began offering tailor-made fitness and wellness holidays. "Not everyone wants to sit on a beach sunning themselves for 10 hours a day," says co-founder Paul Joseph. "They want to return home with lasting benefits. We were becoming much more aware of the effects of a sedentary lifestyle and I could see the need for these types of trips was going to grow." Originating in England, the company now has offices in Toronto, Melbourne and Manila.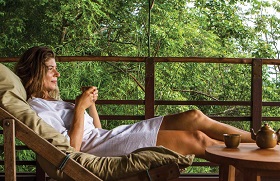 As the emphasis on healthy lifestyles grows, it only makes sense that wellness is now an essential part of the incentive travel planning process.
According to a recent study from the Incentive Research Foundation, more than half of planners polled are personally invested in wellness and sus­tainability, with many reporting they already have wellness programs in place, and are expanding their offerings to groups of all sizes.
Dallyce Macas, managing director of éminence Canada Tourism Consulting, says she sees the trend coming from attendees. "New types of com­panies are looking for different meeting options. Toronto has more technology companies, with senior teams made up of a younger generation who are focused on healthy options," she says.
Customized experiences
"We need to realize what the client wants—it may not be a spa day or a yoga class. It could be a mindful walk in a museum or providing healthier options for a meal," explains Deborah Peniuk, owner of Toronto-based AYA Life, a health and wellness travel company. Combining her experiences as a Uniglobe travel agent, yoga teacher and cancer survivor, Peniuk was the first in Canada to be certified as an Elite Wellness Travel Specialist by TLG Hotels.
Peniuk says groups new to wellness should make it simple, avoid overloading the schedule and allow time for absorption. "It's great to offer healthy food options for lunch, but it doesn't make sense to have an open bar and endless food for dinner."
Destination considerations
Costa Rica offers a wide range of outdoor activities from surfing on the west coast, to exploring a coffee plantation in its interior, says Macas, providing a wide range of options in an established wellness destination. Closer to home, Alberta's Banff Centre has used out­door classrooms as part of its meeting offerings for several years, and Nordik Spa, with locations in Quebec and Manitoba, offers weekend retreat packages for corporate groups.
Health and Fitness Travel recently launched Mindful Triathlon Holidays for the health-conscious individual or group at fifteen des­tinations, including Thailand, Sri Lanka, the Caribbean and Spain. Attendees choose activities from three aspects: Be Active (person­alized fitness and sports), Be Mindful (including meditation, Tai Chi and breathing techniques), Be Balanced (massage, pilates and yoga).
And G Adventures, based in Toronto, just introduced a new pack­age—wellness itineraries in 10 different destinations, including Nepal, Iceland, Patagonia, Tuscany and Colombia.