Well-crafted companion programs can boost attendance when significant others can enjoy plus-one fun
By Michele Sponagle
Every conference delegate and event attendee considering heading out of town for a multi-day business meeting has a moment when they ask themselves, "Should I go?" The answer is often influenced by their significant others. Companies who create innovative programs for partners can help seal the deal and net an enthusiastic 'yes.'
"Especially for international conferences, the opportunity for a spouse/partner to also participate and be welcomed into the confer­ence can be a difference maker when deciding on whether to attend," says Ian Holliday, project director, Sea to Sky Meeting Management Inc., based in Vancouver.
When it comes to what to offer companions, he has found that sightseeing/cultural experiences are the number-one priority for the meetings his company manages interna­tionally. "With each new destination, partici­pants are eager to explore and get the lay of the land, so we normally schedule a city tour as the first activity for spouses and partners to become familiar with the destination," he says. "If budget permits, a luncheon allows attendees to get to know each other. We also are sure to include conference social events in the spouse/partner program, usually the welcome reception and a gala dinner."
For a conference in Nantes, France, Sea to Sky included a four-hour guided walking tour to visit the historical sites. In Vancouver, it may include a visit to the Capilano Suspension Bridge followed by a tram ride up Grouse Mountain for amazing views of Vancouver.
For Montreal's VDM Global DMC, president Danielle Crête says for her company, culinary experiences are very popular. "They are often the first activity that the clients request. We may also include meetings with chefs, city tours with tastings and hands-on culinary workshops. Nowadays, the spouse/ partner programs are for smaller groups, which allow us to bring them to small boutiques and restaurants—something you cannot do with bigger groups."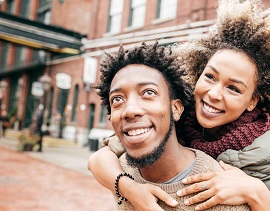 The key to enticing programs begins with understanding who the potential participants will be, including their ages and interests. Crête also says it's important to stay in the loop about any new activities that a city might have to keep offerings fresh. She suggests getting client input about what companion programs have been available in the past and their participation rates.
In his experience, Ian Holliday has noted that providing opportunities for spouses/partners to network is just as important as including networking time for conference participants themselves. "This happens during a tour, at a breakfast or a lounge where they can stop by for a coffee," he says. "Friendships are formed and renewed at each conference, making attendance a highlight for the participant and their companion.
5 winning perks for companion attendees
- Host fun mixer events, such as a brunch or cocktail reception happy hour, exclusively for companions to break the ice at the start of the event.
- At hotel venues, set up a hospitality room so partners can connect with others also looking to participate in recreational activities.
- Work with destination marketing organiza­tions to supply attraction passes to guests to encourage exploration of the host city.
- Offer educational sessions to companions around subjects like travel photography and creating vacation videos with smart phones.
- Help plus-ones stay in touch with home by supplying pre-paid postcards or phone cards.